Not Exclusively For Racing Fans
Before catching Ron Howard's Rush, my knowledge of racing and race cars began and ended with the Mattel's Hot Wheels toy line, and both "Niki Lauda" and "James Hunt" were unfamiliar names. And still, I thoroughly enjoyed the film. Though Rush is based on a true story involving a rivalry of sorts between two Formula One drivers, James Hunt (portrayed by Chris Hemsworth), and Niki Lauda (portrayed by Daniel Brühl), I don't view the film as a racing movie of interest only to racing fans. At its core, Rush is story about determination, grit, passion, destructive tendencies, constructive tendencies, and that little thing in your gut, whether positive or negative, that really makes you tick. And because the characters were fascinating to watch, relatable and believable, I was emotionally pulled into their world and therefore, the story.
(This article contains my reactions to the entire movie; if you haven't seen it and would like to avoid spoilers, stop reading now.)
---
Character: James Hunt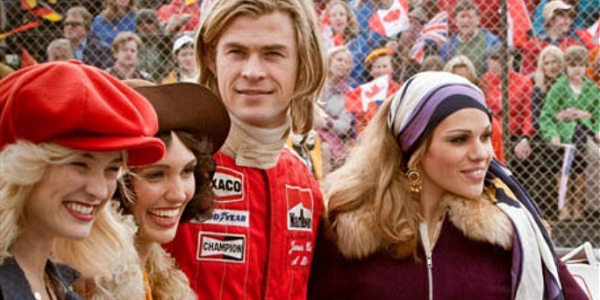 The Hunt character is a tall, blond, very attractive, and somewhat gregarious playboy. He likes to party. Hard. The women love him, and being a "man's man," he is also very popular with the guys. His reputation for partying sometimes precedes him, but at the same time, his reputation for being a talented driver, one of the best in the world, precedes him as well.
But however different their outward expression may be, the Hunt and Lauda characters are very much alike internally and this is what makes their interaction interesting and almost funny to watch:
The risk here is that such a character can come perilously close to exemplifying the jock archetype: one who knows sports, girls, and not much else. But through Peter Morgan's dialogue and Hemsworth's delivery, we learn that Hunt is perceptive and verbally astute, effortlessly calling on swift, witty comebacks to distance himself from awkward situations and invasive questions. And though he playfully teases, he is not malicious; he simply likes to have fun and is honest about this fact. What you see is what you get, and I like this. Hemsworth exudes a very likable charisma in this role; I suspected that a complex, multifaceted personality lay beneath Hunt's playboy exterior, and I wished I could have seen more of it, more of his non-playboy persona.
---
Character: Niki Lauda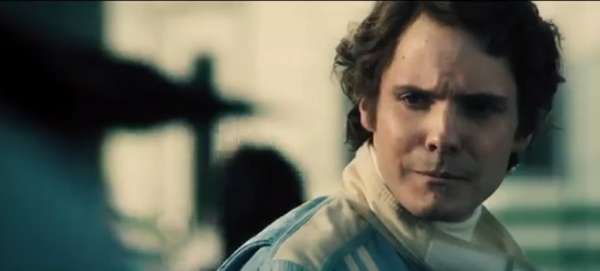 Lauda to Hunt: "How is it at the back?"
Niki Lauda, on the other hand, is not so tall, is not a playboy, and is not a partier. He goes to bed early, gets up early, and in fact is a bit of a loner. Lauda's demeanor is direct, his speech blunt. He is not shy about blurting wonderful pleasantries such as "I'm faster than you!" to his peers and "F-off!" to, well, whomever has it coming. He is very intelligent, understands the mechanics of race car construction, and has an opinion about everything involved, up to and including specific body materials. And he is right. Machines built according to his specifications are lighter— and faster. Lauda is aware of this and is not shy about pointing it out, either.
And this time, the unexpected emotional reaction is not jarring, it's inspiring… This is why I go to the movies, to see and experience scenes like this.
Not surprisingly, his racing style is based more on meticulous calculation rather than aggression, or at least, not an obvious aggression. This is a guy who will show up at the venue on the day of a race—hours before start time—so that he could familiarize himself with and walk the track. But even with his gruff tone and exacting personality, Lauda is not portrayed as an overconfident loudmouth. He has a vulnerable, contemplative side, and its understatement makes it that much more poignant when displayed. I liked this character very early on in the movie, and enjoyed watching Daniel Brühl (who I'd never seen before) play him as the story progressed.
---
Commonalities
At first glance, it would seem that that we are presented with polar opposites: Gregarious Hunt who stresses a willingness to put his life on the line while racing, and contemplative Lauda who finds a more than 20% death risk unacceptable.
But however different their outward expression may be, the Hunt and Lauda characters are very much alike internally and this is what makes their interaction interesting and almost funny to watch:
Both men came from well to do families and pursued a racing career against their families' wishes (with Lauda forfeiting financial inheritance), demonstrating an indomitable independence, an inclination to take an unpopular course and a willingness to suffer its consequences. This fortitude, this passion is central to their personalities. It is a large part of who they are and is what they see in themselves and in each other, and I believe this recognition spurs on the 'rivalry.'
Both are introspective and as a result, honest about and aware of who they are and who they aren't: what you see is what you get. Take it or leave it.
Both are excessively passionate, giving the impression of having been racing from something rather than racing towards something.
Now that the characters have been well established, I can relax and appreciate the story.
Relationships
During the course of the film, we witness Hunt and Lauda's relentless competitiveness, their endless scrutinization of each other, a general inability to let each other go: "What's he doing? Is he using wet wheels? Well I'm not either." The rivalry demonstrates not only their competitiveness, but their acknowledgment of and respect for each other's talent.
At the same time, Hunt's and Lauda's relationships with significant other offer a glimpse into their off-track personalities and personal doubts, worries, and conflicts.
Hunt marries, but the marriage falls apart during a stressful time in his career. "Don't look for men who are willing to kill themselves driving in circles looking for normality." he tells his wife. And while Lauda's union seems strong and happy, he reveals that in his mind, happiness is weakness because it gives one something for which to live.
The Crash
The established drama leads up to a key event in the film, the German Grand Prix where, during an intense rainy downpour, Lauda suffers a horrific accident. The crash scene and its aftermath are very graphic; we are not spared close-ups of scar tissue, bandages and burns. Most distressing for me, though, was not the visuals (though they were impressive and I appreciated them aesthetically) it was the shock of hearing an usually calm, cool and self-controlled character scream in agony; it was very jarring to my senses. And additionally by this time, I was heavily invested in this guy.
We see a depiction of what is later described as the most difficult part of treatment: the flushing of Lauda's lungs; the squeamish should just look away here. It is a painful process, and delicate as well. So much so that in order to prevent internal bruising, the doctors recommend temporarily ceasing the procedure.
And it is here that we get to see a remarkable insight into this character's discipline and downright stubbornness: while the lung-flushing is happening, Lauda watches televised coverage of Hunt's winning of races and orders the physicians to continue.
At this point, I wonder if Lauda is aware that he is using his competitiveness with Hunt as an incitement, as a provocation to spur him to recovery.
And another quiet, emotional scene shows him standing, on shaky legs, attempting to strap on his helmet over a heavily bruised and not yet healed head. It is very effective as I am uncomfortable and wishing that he would just let it go. But I know that he is not going to let it go. And yet I can't stop looking.
The Comeback!
Just six weeks after the crash, Lauda shows up at the Italian Grand Prix, ready to race. Apparently, there was no pre-race announcement. Spectators are stunned. What, Lauda is here? Right now? To race? The buzz spreads through the stands, through the pits, people are craning their necks, looking – and heading – in Lauda's direction. "What's going on?" Hunt asks. A crew member informs him, and I think Hunt was truly impressed.
And so the race commences, complete with the excited announcer's anxiety-inducing blow by blow of Lauda's performance. Lauda is shaky at first, who wouldn't be, but gets back into form. He does not win, finishing fourth I believe, but the point is that he was out there! Despite the scars, despite, anyone's limiting expectations, despite any lingering fears, (and my previous wishing that he would just let it go) he got out there and did his thing.
The crowd just looses it, grows uncontrollably wild, hoisting Lauda up on their shoulders and carrying him along. Spectators are cheering. I am cheering. Not out loud in the theater, but you know, I wanted to! It is an incredibly triumphant moment and we see unmasked, pure joy and triumph in Lauda's usually controlled, stern emotionless face.
And this time the unexpected emotional reaction is not jarring, it's inspiring. And I, the audience member, am feeling it.
This is why I go to the movies, to see and experience scenes like this!
---
Last Race of the Season
The movie begins its third act with the last race of the season, the Japanese Grand Prix, with Hunt a mere three points behind Lauda, needing only to place third to win. And it is heavily raining again. A visually and audibly ominous mood is crafted, one of anticipation, fear, and worry, and it's working because I notice that I am physically affected; my heart is pounding faster and harder. (Yeah thanks, Howard.)
Through a POV we learn that Lauda's vision is badly impaired by the rain. He pulls off of the track. Hunt continues on, and something is wrong with his wheels. I am two minutes away from hyperventilating, as I had known only that one of the drivers was longer alive and nothing of the outcome.
After he pulls into a pit and yells at everyone to hurry, a mechanic implies that Hunt should simply finish the race, that he cannot win and that he (the mechanic) would like to see Hunt alive at the end of this thing. Of course this enrages Hunt and he speeds off. To a one point victory. Hyperventilating over.
---
Final Scenes
In a final scene the racers run into each other in an airplane hanger. I have to watch this again and note the chronological order of comments because it is here that I think the film is really trying to say something.
Hunt runs over to Niki and tells him that he is he glad to see him, that he feels responsible for the accident. Lauda tells him, in typical Lauda style, that yes, he was responsible for the accident. However, he continues with: "Watching you win those races, with me fighting for mt life, you were equally responsible for getting me back in the car."
This was the epitome of class and grace, because there is no way Lauda was unaware that he was putting Hunt at ease with this statement. And he wasn't mushy with it. It was stated simply, as fact.
Interestingly, during the course of this conversation, Hunt reveals that he had been willing to risk his life in order to win. I think back to the hospital scene and contrast this with that in a way, Hunt helped inspire Lauda to strive to live. The irony.
Through Lauda's voice over, I learn that Hunt retired shortly afterwards. But I don't know why he retired. It is implied that he proved whatever he'd needed to prove. At the beginning of the Japanese Grand Prix, Hunt had wanted to cancel. It was too dangerous. I am wondering if , after a while, Hunt was no longer was willing to risk his life to win a race.
And I wonder about what, while caught up in such dangerous passions, racers are really racing towards, what they want to win, and somehow I think it has nothing to do with trophies, championships, and other external stuff.
---
My Thoughts
I don't believe Lauda and Hunt were nasty rivals. I believe they saw something of themselves in each other, that Lauda and Hunt were actually friends who saw the best in each other and used it to bring out the best in themselves.
Overall, I enjoyed the film. The only drawbacks are that I felt aspects of Hunts personality other than his playboy ways and charisma should have been explored, just as we glimpsed characteristics of Lauda's other than his crankiness, and I thought the sex scenes and butt shots unnecessary. However, this is one of those movies that makes me think, ponder and brood. I left wondering about life and death, what propels individuals fight death, to risk life, to thrill seek and why? The presence of this kind of contemplative thought, long after the viewer has left the cinema, is one of the hallmarks of a good film and I definitely recommend Rush.
---
UPDATE, CORRECTION March 2014:
The DVD was recently released and I watched the film again. The exchange where Lauda tells Hunt that he was "…equally responsible…" for getting him back into the car did not happen at the end of the film. It happened during Lauda's return to the track, after his accident.